Success is often measured by a myriad of metrics and indicators. For B2C (business-to-consumer) lead generation websites, the key to thriving in the digital landscape is to understand what success means and how to measure it effectively. While the ultimate goal is to generate qualified leads that can be converted into loyal customers, achieving this objective requires a multifaceted approach. In this article, we will explore three crucial ways to measure success for a B2C lead generation website.
Conversion Rate
Conversion rate is a fundamental metric for any B2C lead generation website. It represents the percentage of visitors who take a desired action, such as signing up for a newsletter, filling out a contact form, or making a purchase. A high conversion rate indicates that your website is effectively engaging visitors and persuading them to take the next step in the customer journey.
To measure conversion rate, follow these steps:
Define Your Conversions
Start by identifying the specific actions you want visitors to take on your website. These actions should align with your business goals and may include subscribing to your email list, requesting a quote, or making a purchase.
Install Analytics Tools
Implement robust web analytics tools such as Google Analytics to track user interactions on your website. These tools provide valuable insights into user behavior, including conversion data.
Calculate Conversion Rate
Divide the number of conversions by the total number of visitors and multiply by 100 to get your conversion rate as a percentage. The formula is:
Conversion Rate = (Conversions / Total Visitors) * 100
For example, if your website had 500 conversions in a month and 10,000 visitors, your conversion rate would be 5%.
Set Benchmarks and Goals
Establish benchmarks and set conversion rate goals. These benchmarks can be industry standards or your website's historical performance. Use these goals to measure your success and identify areas for improvement.
Optimize Your Website
Continuously analyze your website's performance and experiment with different strategies to improve your conversion rate. This may involve A/B testing landing pages, optimizing calls to action, or refining your content to better resonate with your target audience.
Lead Quality and Sales Conversion
Generating leads is a crucial step, but the ultimate success metric for a B2C lead generation website is the ability to convert those leads into paying customers. Lead quality and sales conversion rate are paramount in this regard.
Assess Lead Quality
Not all leads are created equal. It's essential to evaluate the quality of the leads you're generating. Look at factors like demographic information, engagement level, and the potential for conversion. Tools like lead scoring can help you assign a value to each lead based on their attributes and actions.
Track Sales Conversion Rate
The sales conversion rate measures the percentage of leads that ultimately make a purchase. To calculate this rate, divide the number of converted leads by the total number of leads and multiply by 100. The formula is:
Sales Conversion Rate = (Converted Leads / Total Leads) * 100
For instance, if you had 100 converted leads out of 1,000 total leads, your sales conversion rate would be 10%.
Analyze the Customer Journey
Understand the path your leads take from the initial contact to conversion. This includes tracking touchpoints, content consumption, and interactions with your website. Analyzing the customer journey can reveal bottlenecks and opportunities for improvement.
Implement Customer Relationship Management (CRM) Tools
CRM systems can help you manage and nurture leads effectively. They enable you to track interactions, personalize communication, and prioritize leads based on their readiness to buy.
Nurture Your Leads
Develop a lead nurturing strategy that keeps potential customers engaged and informed until they are ready to make a purchase. This may involve email marketing, targeted content, and personalized offers. Measure the effectiveness of your lead nurturing efforts by monitoring conversion rates at different stages of the funnel.
Cost per Acquisition (CPA) and Return on Investment (ROI)
Success isn't just about generating leads; it's also about doing so efficiently. Cost per Acquisition (CPA) and Return on Investment (ROI) are critical metrics to ensure that your lead generation efforts are not only effective but also cost-effective.
Calculate CPA
CPA measures how much it costs to acquire a single lead. To calculate CPA, divide your total advertising or marketing spend by the number of leads generated. The formula is:
CPA = Total Marketing Spend / Total Leads Generated
For example, if you spent $1,000 on advertising and generated 200 leads, your CPA would be $5 per lead.
Assess ROI
ROI quantifies the return on your marketing investment. It compares the revenue generated from your lead generation efforts to the cost of acquiring those leads. The ROI formula is:
ROI = (Net Profit from Leads - Cost of Acquisition) / Cost of Acquisition
If you made $10,000 in revenue from leads and spent $2,000 on acquisition, your ROI would be:
ROI = ($10,000 - $2,000) / $2,000 = 4
An ROI of 4 means that for every dollar spent on lead acquisition, you earned $4 in revenue.
Set ROI Goals
Determine what ROI you need to achieve for your lead generation efforts to be considered successful. This will vary depending on your industry, business model, and objectives. Setting ROI goals helps you allocate your budget effectively and prioritize marketing channels that deliver the best results.
Optimize Marketing Channels
Use data from CPA and ROI calculations to identify which marketing channels are most cost-effective. Allocate more resources to channels that provide a positive ROI and consider scaling back on less profitable ones.
Monitor Lifetime Value (LTV)
While ROI focuses on short-term gains, consider the long-term value of acquired customers. LTV measures the revenue a customer generates throughout their relationship with your business. By maximizing LTV, you can justify higher acquisition costs for valuable, loyal customers.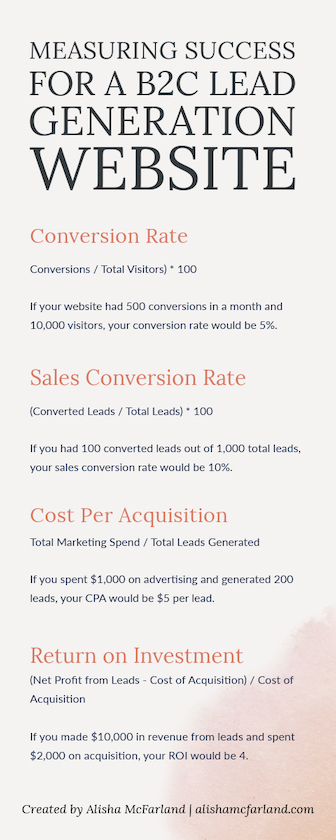 Take Away
Measuring success for a B2C lead generation website requires a holistic approach that encompasses both quantitative and qualitative metrics. Conversion rate, lead quality, and sales conversion rate evaluate the effectiveness of your lead generation efforts, while CPA and ROI assess the efficiency and profitability of those efforts. By continually monitoring and optimizing these metrics, you can fine-tune your strategies, maximize your marketing budget, and ultimately achieve sustainable success in the competitive world of B2C lead generation. Remember that success is not a one-time achievement but an ongoing journey of improvement and adaptation to the evolving needs and preferences of your target audience.